Owing money to a drug dealer is a good way to wind up on a slab... But how do you pin the wrap on the big boss - and his henchman who's already
behind bars
?
A young bloke unwise enough to take a loan from a drug dealer is shot dead in an alleyway, unfortunately witnessed by his girlfriend. Time to call in...
Funky Squad.
A fortuitous phone call puts them on the scent of a Viktor Ramirez - and with a name like that, you
know
he's going to be a bad guy. The now-usual split-up takes place, and Grant and Cassie darken the doors of Ramirez and his bunny-girls....
Like Ericson from episode 2, Ramirez is one of these upper-class businessman philanthropist dodgy brother types. He's also quite completely and delightfully mad.
And he has a pet henchman called Driscoll. Now don't laugh - I could never get a decent fitting jacket in an op-shop, either.
While Grant and Cassie admire Ramirez' flash pad, Stix and Poncho interrogate a dinkum bogan sheila who fills them in on the dead boy, his girlfriend Vanessa, and the horrors of regrowth following a dodgy dye-job.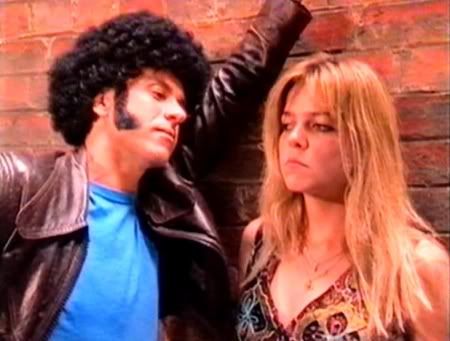 They congregate at Vanessa's place, wearing their sympathetic faces.
Vanessa has a delightfully camp comic-relief flatmate, but other than that is no help at all. Funky Squad re-group back at HQ, and relax with some cutting-edge computer games...
The computer also informs them that a certain V Ramirez is a silent partner in Fantasia nightclub, where Vanessa worked and shook her groove thang the night her boyfriend died. But the relevation comes too late for Vanessa, who's been strangled by Driscoll, the erstwhile gentleman in the ill-fitting jacket. Who also rubbed out the boy, in case you hadn't figured it out by now.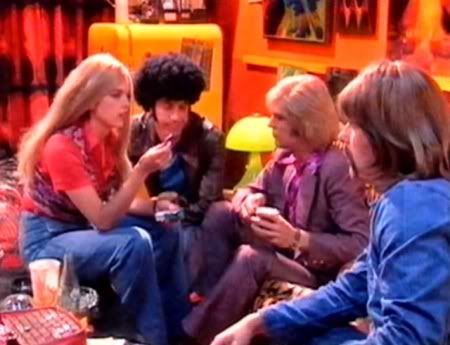 Poncho once again gets the weekly medal for Services to the Advancement of the Plot by figuring out Vanessa's cryptic comment about the killer "already being behind bars" didn't refer to jail time, but pub service.
They head back to Fantasia, this time during opening hours...
Which leads to a gunfight between Grant and Driscoll - who works
behind the bar
.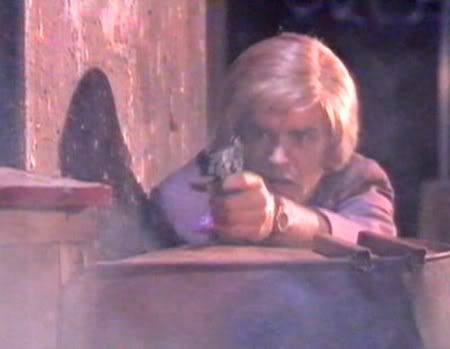 At this stage, Stix and Cassie are upstairs snooping in Ramirez' office - although Cassie's high tech method of identifying cocaine by sticking her finger in the bag and then licking it is probably not standard police procedure. Poncho is temporarily out of action after Driscoll threw a drink in his eyes. Fortunately it did no lasting damage, or the poor man would be really screwed, and he comes good in time to bail out Grant.
But this time, it's Cassie and Stix in trouble...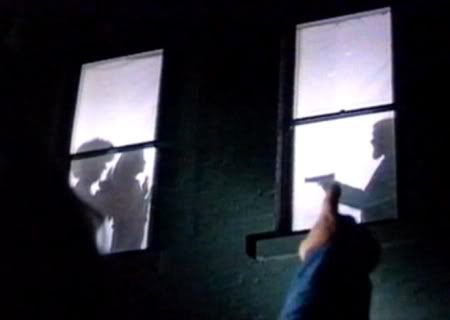 Poncho is a very good marksman - last week he shot out the tyres of an erratically moving vehicle, and in this episode he neatly kills Ramirez, visible in silhouette through a second-floor window, with a handheld pistol.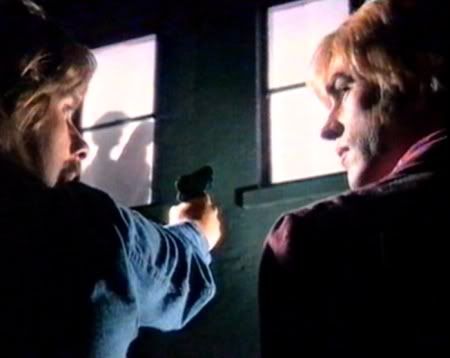 In the ads this week, that bloke done up as the American flag is back flogging more patriotic personal care items with Uncle Sam antiperspirant - all the weirder because the lyric
In Sydney and Melbourne, Brisbane or Perth
, implies it's an Australian ad despite being crammed with eagles, stars, stripes, and other Yankee kitch. Another Aussie ad is Export Cola, before a gent called Mike who was obviously so famous at the time he didn't feel the need to introduce himself touts an electronics shop so up to date it sells 'tapes and cartridges' as well as records and hammond organs.
Quotes of Note
Cop: I take it you were on duty last night?
Cassie: Pest control, pal.
Cop gives a lank look
Cassie: Busting drug pushers
Stix: Exterminating rats as they crawl out of the sewer... A little hard to do from behind a desk.
Grant, led into room by bunnies in leopardprint: Mmmm... I like your taste in butlers
Ramirez: and I like your taste in uniform
Vanessa's male flatmate Ashley opens the door to Funky Squad: I didn't know policemen came in such attractive packages
Cassie: Can the come-on, bud
Flatmate: I wasn't talking to you.
Cassie: Vanessa, we're gonna split now, but we'd like to come back later and rap some more - you'd be cool with that?
Ashley strokes Stix' hair: Nice full body... I could do wonders with that.
What might have been
Here on planet Earth,
Funky Squad
lasted seven episodes and was made in 1995. However, in the alternative dimension where this was a real 70s cop show made in the American state of Australia, it was obviously quite a big hit. The stars all get credts at the
front
of the show, which implies they're names we should be familiar with, and we've already seen Blair Steele endorsing hairspray - so it's not unlikely that within FunkySquadLand the show ran for years and there are lots of episodes that never made it to Earth.
We get a few clues what these episodes might have looked like from the front credit sequence. Like the first season of
The Goodies
(you knew there was going to be a Goods reference in here sooner or later, didn't you?) there's a fair bit of specially-shot material in the titles sequence that looks like it could have come from the show itself, but actually doesn't.
So... we missed out on seeing such gems as Funky Squad goes West...
Grant goes undercover someplace girls dig pink shirts...
Cassie proves she's not at all jealous, really, oh no...
(Excuse me, Miss Svensen-Hart, your wig is wilting. Please see makeup.)
And Stix and Poncho go boxing.
There really is no way to follow a discussion so silly, so I'll be off until Episode 5.